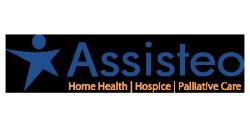 RN Case Manager
Featured
2020-07-10 AZHOMEHEALTH dba Assisteo Home Health 122 N Cortez St, Suite 108
Description:
An extraordinary opportunity to be a part of a culture you can be proud of by joining one of the state's top home health agencies!
Alone we can do little, together we can do so much! If you would like to become a part of our amazing team and learn what a satisfying day feels like, then please read the full job description below and apply now! Here are just a few of the many reasons why:
We have been in business since 2008 and have established a stable and strong financial base.
We have achieved consistent, double-digit growth percentages year after year.
Our leaders have open door policies and care about our employees' input, satisfaction, and professional growth.
We do not tolerate unethical behavior or questionable business practices.
We promote our existing employees to leadership positions whenever possible.
Care Managers conduct and provide comprehensive assessments, design tailored care plans based on the initial and ongoing assessment(s), coordinate services defined in the care plan and evaluate service of third party providers. Care managers explore options and services to meet an individual's needs, and manage proper utilization of resources to ensure positive client outcomes. Care Managers visit the client in their 'home'. Care Managers maintain relationships with family members, care providers. . Care management is a collaborative process that includes a multitude of services focusing on a patient- centered approach that meets the client's/family needs, and promotes quality of life and independence.

Scope of Duties Professional service is provided by a registered nurse and includes:
Initial and ongoing comprehensive assessments of the client's needs
Initiating and evaluating the plan of care and revising as necessary
Coordinating community resources to promote independence, safety and quality of life
Integrating the client and family in meeting related needs.
Preparing clinical and progress notes
Coordination of services
Informing the physician of changes in the client's needs
Evaluating outcomes of care
Participating in in-service programs
Providing supervision of home health aide services and LPN employees and preparing written instructions for care provided by home health aides
Maintaining confidentiality of patient and agency matters
Submitting required documentation in a timely manner – within 48 hours from time of visit
Knowledgeable of electronic record usage

Skills/ Requirements
Must be licensed in the State of Arizona as a Registered Nurse
Must have one or more years in home health/hospice agency or in a hospital setting
Skillful in IV therapy, Enteral, Tracheostomy and Wound Vac, is preferable
Must have a working knowledge of computers
Current CPR certification• Current TB test
Current Finger print card
Must have valid Driver's License

Check us out at www.assisteohomehealth.com and see why we are excited about our a
Do not contact this company in solicitation of any product or service.